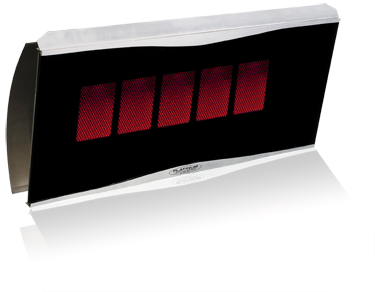 Specialists in Commercial Patio Heaters
What do some of the hottest bars, clubs and restaurants all have in common? They are all using our Platinum range of commercial patio heaters to make their venue sizzle all-season round.
Our commercial heating solutions have been installed in many A-list venues around Sydney including The Establishment, The Ivy, Cruise Bar, Criniti's Darling Harbour and many more. Find out about the many benefits of installing Bromic Heating commercial patio heaters:
Aesthetically pleasing:
Our commercial heaters are a stylish collaboration of form and function with an emphasis on modern and innovative design and seamlessly integrate with your existing outdoor area.
Increased patronage: By installing commercial heating, you are extending the use of your outdoor and al fresco areas throughout the evening and all year round. Given a choice, most patrons would prefer to be in a venue that's warm, cozy and inviting.
Increased profits: Outdoor heating extends the use of your key dining and drinking areas and attracting custom throughout the year. This translates to more patrons in your bar area and/or producing more covers in a restaurant or cafe and increasing your profit.
Improved safety: The commercial heaters are not free-standing like traditional gas heating and can either be mounted or suspended from the ceiling. They are an ideal choice for installing heating in commercial outdoor areas open to the public where safety is paramount.
Energy efficient: Commercial heating offers enhanced efficiency and performance at low temperatures. Our outdoor gas heaters heats up large areas quickly and are more cost efficient than traditional heating systems.
Low maintenance: Our range of outdoor heaters are easy to install and require little staff training and take up minimal space, making it easier for you to organise seating layout. Unlike some free-standing gas heaters, the heaters have no expensive gas bottles to change and store.
Environmentally friendly: Our commercial heaters are the environmentally friendly option offering a green alternative to traditional outdoor heating and reducing your hotel's carbon footprint.
So leave your competitors in the cold and install outdoor heating to maximise the use of your outdoor spaces. Find out more about our commercial heating solutions and how they to take the heat off your venue budget and contribute generously to your bottom line.mounted heaters, contact the friendly team at Bromic Heating today.