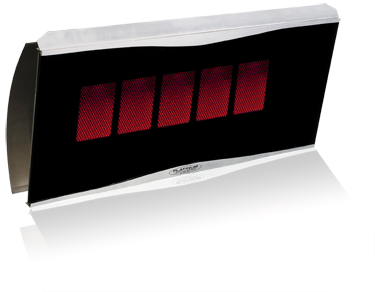 Bromic Platinum Gas Heaters
OUTSTANDING AESTHETICS
The "tinted" ceramic medium of teh platinum gas heating series transforms the ontrusive red glare emitted by traditional gas heating burners into a s soft red glow which conveysa a feeling of "warmth." The softened glow does not compromise heat outpout and ius a sugnificant aesthetic improvement not seem in any other gas radiant heaters.
Stylish and unique design
Slim and streamlined
Brushed stainless steel finish
Patented design & technology
Attaractive tinted translucent ceramic medium
Bromic Platinum Gas Heaters Work Great and Look Great Too!
Patio gas heaters are becoming a popular option to keep your home or business' patio warm for use in colder weather. At Rasmussen Gas Logs & Grills, one of our most popular heaters is the Platinum Smart Gas Heater. These smart outdoor gas heaters are a great way to keep these exterior areas warmer without the use of typical, ugly, industrial-looking heaters. The tinted ceramic medium minimizes the bright red glow many other heaters emit and softens it to create a warmer ambience without negatively impacting the flow of warm air.
Safety and Innovation Are a Priority
The Bromic Platinum Gas Heaters have safety and innovation at the forefront. When the flame goes out, the patented electric ignition will automatically re-ignite the flame. If the flame doesn't rekindle, the safety shut-off control will stop the flow of heat. This makes the Platinum Smart Gas Heater one of the safest options available on the market. In addition to safety, these smart outdoor gas heaters feature:
Push-button electric ignite;
Wind-resistant burners;
Even heat distribution;
Single-switch burner control (not included).
A Flexible, Cost-Efficient Option
Our patio gas heaters use gas more efficiently than any other similar heater on the market, providing even, comfortable heat to a larger area over a shorter period of time. The platinum heating gas heaters are available in both propane and natural gas options, giving you the convenience of choosing any type of gas. Our heaters are perfect for both residential and commercial use and are available in three-burner and five-burner options to best meet your needs.
Effective utilization of gas
Heats large areas quickly and efficiently
Available for Natural gas or Propane gas
Suitable for commercial and residential outdoor use