Tungsten Electric Heaters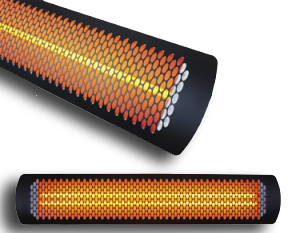 Bromic Tungsten Electric Heaters
Features:
Four models: 44 inch long (2000W and 4000W) and 56-inch long (3000W and 6000W). Requires 220V-240V electric service.
frosted infrared tube heating elements emit a warm amber glow- no harsh glare.
High temperature corrosion-resistant coating
Wall and ceiling mounting options allow for adjustable angle of heating direction.
Tamper-proof electrical wiring enclosure.
Suitable for commercial outdoor and indoor heating applications such as restaurants, cafes, bars and clubs, factories, office spaces, designated smoking areas, public areas, hotels, and more.
Reliable Electric Outdoor Heaters
An electric heating system can be the ideal way to keep your home or business' patio or outdoor living space warm and comfortable during chilly nights. At Rasmussen Gas Logs & Grills, we offer a selection of electric outdoor heaters to fit every need. Our Tungsten Smart Electric Heater is one of the most attractive options available, giving you the chance to keep your exterior areas warm with efficient, even heating.
All the Features You Need
Our Bromic Tungsten Electric Heaters are designed to offer all of the features you need to enjoy your outdoor space, no matter the temperature. Some of the most significant features of this heating system include:
Frosted infrared tube elements with a warm amber glow;
Corrosion-resistant coating that withstands high temperatures, available in Black or White (currently only 4000W and 6000W in White);
Wall and ceiling mount options for flexibility;
Tamper-proof wiring enclosure.
It is ideal for all residential patios and outdoor living spaces, as well as commercial areas, such as restaurant outdoor dining, waiting smoking areas, office space, hotels and other public areas where you wish to provide comfort for your guests.
A Variety of Options
We offer a number of patio electric heaters so you can choose the one that provides the amount of heat you require. These heaters are available in four sizes to meet your needs, including:
| Power | No. of Elements | Dimensions (WxHxD) | BTU/hour Equivalent | Heating Area (approx) | MSRP Black | MSRP White |
| --- | --- | --- | --- | --- | --- | --- |
| 2000W | 1 | 44″ x 8.5″ x 3.5″ | 6,800 | 65 sq. ft. | Get Price | N/A |
| 3000W | 1 | 56″ x 8.5″ x 3.5″ | 10,200 | 100 sq. ft. | Get Price | N/A |
| 4000W | 2 | 44″ x 8.5″ x 3.5″ | 13,600 | 120 sq. ft. | Get Price | Get Price |
| 6000W | 2 | 56″ x 8.5″ x 3.5″ | 20,400 | 144 sq. ft. | Get Price | Get Price |
Please note: Heating areas are based on a protected environment with heater mounting height of 96″ (8′). For unprotected areas and extremely cold and windy environments, heating areas can be less.